SHAPE Platform is announcing its 2021 list of artists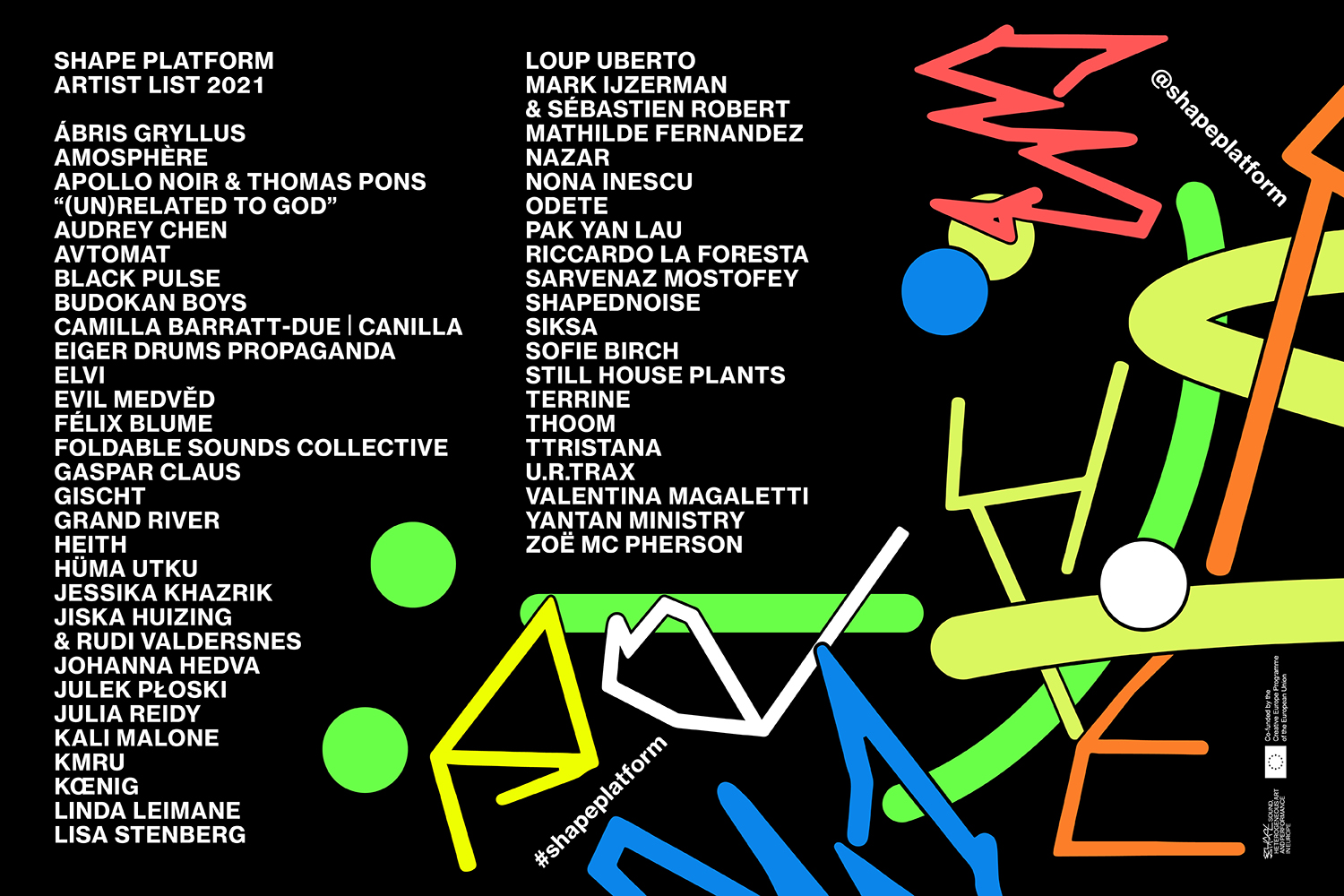 The Creative Europe-supported SHAPE platform for innovative music and audiovisual art is announcing its 2021 list of artists. The artist selection for the platform's seventh year traditionally places a number of audiovisual projects and sound artists alongside musical acts that range from club music and forward-thinking media art to free improvisation and spatial music.
Keeping in mind the unforeseeable circumstances of the Covid-19 global pandemic, the artist presentations of SHAPE's seventh year will be a mixture of live events and online activities, including streams, new audio publications and online exhibitions.
Seeing as the working period for SHAPE's current roster had been extended until March 31 due to the pandemic, the 2021 artist list of SHAPE will begin its year of activities on April 1.
Full list of SHAPE artists for 2021
Ábris Gryllus (HU)
Amosphère (CN/FR)
Apollo Noir & Thomas Pons "(Un)related to God" (FR)
Audrey Chen (US/DE)
Avtomat (PL)
Black Pulse (AT)
Budokan Boys (US/DE)
Canilla (NO/DE)
Eiger Drums Propaganda (FR)
ELVI (LV)
Evil Medvěd (UK/CZ)
Félix Blume (FR)
Foldable Sounds Collective (INT)
Gaspar Claus (FR)
Gischt (AT)
Grand River (NL/IT/DE)
Heith (IT)
Hüma Utku (TR/DE)
Jessika Khazrik (LB/DE)
Jiska Huizing & Rudi Valdersnes (NL/NO)
Johanna Hedva (KR/US/DE)
Julek Płoski (PL)
Julia Reidy (AU/DE)
Kali Malone (US/SE)
KMRU (KE/DE)
KŒNIG (AT)
Linda Leimane (LV)
Lisa Stenberg (SE)
Loup Uberto (FR)
Mark IJzerman & Sébastien Robert (NL/FR)
Mathilde Fernandez (BE)
Nazar (AO/BE/UK)
Nona Inescu (RO)
Odete (PT)
Pak Yan Lau (BE/HK)
Riccardo La Foresta (IT)
Sarvenaz Mostofey (IR)
Shapednoise (IT/DE)
SIKSA (PL)
Sofie Birch (DK)
Still House Plants (UK)
TERRINE (FR)
Thoom (US/DE)
TTristana (FR)
u.r.trax (FR)
Valentina Magaletti (IT/UK)
Yantan Ministry (CH/DE)
Zoë Mc Pherson (UK/FR/DE)
Co-funded by the European Union, CREATIVE EUROPE Programme.